Rotterdam, 8 November 2016
HES Wilhelmshaven GmbH (HES Wilhelmshaven), a wholly owned subsidiary of HES International B.V., is pleased to announce that it has started up its Liquefied Petroleum Products (LPG) storage and handling operations supported by a long term agreement.
HES Wilhelmshaven has refurbished and upgraded six existing LPG spheres with a total capacity of 16,480 cbm, jetty infrastructure, fire fighting system, pipelines and rail loading infrastructure.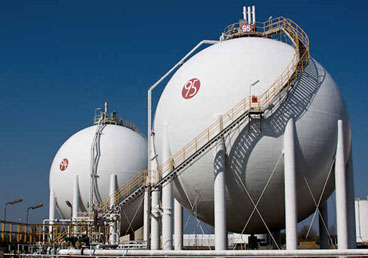 We are excited to further develop and diversify HES Wilhelmshaven as a prime independent storage terminal. The infrastructure has been modified and upgraded according our high standards for safety and flexibility" said Sven Partzsch, Managing Director of HES Wilhelmshaven. Paul van Poecke, Head of Liquid Bulk Terminals at HES International added: "This investment underlines the strategy of HES International and the commitment of its shareholders to further grow in the liquid bulk segment. In addition we're very pleased with the truck and railcar distribution function into the Northern German markets that HES Wilhelmshaven has build up over the last years for petroleum products and LPG".
About HES Wilhelmshaven:
The terminal currently operates 1.3 million cubic meters for storage and handling of crude oil and petroleum products including LPG. HES Wilhelmshaven is strategically located in the single deepest draft port in Germany and is well connected to inland Germany by road and rail. HES Wilhelmshaven has ample jetty capacity with a draft of up to 20 meters. HES Wilhelmshaven is seeking for further customer commitment to get the remainder of the existing LPG capacity of 11,640 cubic meters into operation in 2017.
About HES International:
HES International B.V. is a private company, headquartered in Rotterdam (the Netherlands) and is one of the largest storage and port logistics companies in Europe. Storage and handling activities comprise dry and liquid bulk terminals in North West Europe. The company's focus is on growing its present portfolio of high quality dry and liquid bulk terminals by means of expansion of its already owned sites, greenfield development and acquisitions of existing terminals.
HES International is owned by Riverstone Holdings LLC and The Carlyle Group. For more information: www.hesinternational.eu
Note to the editors:
For additional information about HES International please contact Harry van Rietschoten via Pressinfo@hesinternational.eu