Contributing to the world of tomorrow, that's what we do at HES. We are an important switch in the continuous delivery of essential building blocks for our everyday life needed to develop, sustain and improve the world around us.
It's why we come to work and it's what we do. We want to bring about long-term growth and create value for all our stakeholders including employees, customers, shareholders and the communities and countries in which we operate. This is underpinned by our focus on safety and our core values of integrity, respect, accountability, openness and entrepreneurialism. We are committed to implement the Ten Principles of the UNGC.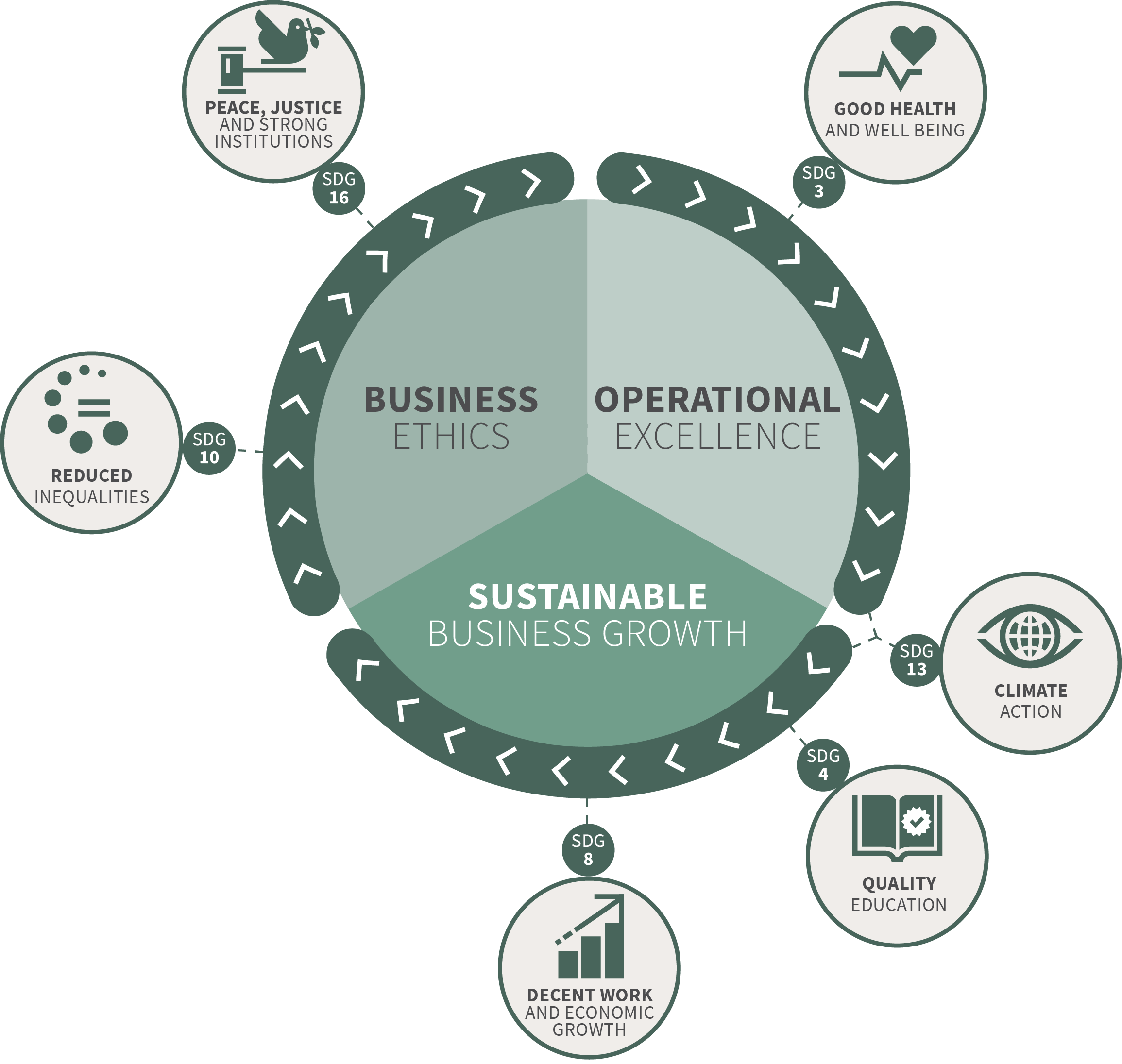 HSSE Policy
Succesfully managing Health, Safety, Security and the Environment (HSSE) is critical to the success of our operations. The prevention of accidents and incidents is an integral part of our core values and this is also pro-actively implemented in practice by our employees and contractors. We believe that accidents and injuries are avoidable. Our target goal is zero incidents, whilst also being mindful of the environment we live in. We are determined to excel in a strongly rooted culture of safety and operational excellence.
Rigorous standards and procedures for the management of HSSE are therefore in place within our company. We continuously ensure that our expectations are understood by every employee and contractor working at our sites. We will comply with and, where possible, exceed the standards set by local laws and regulations and strive to ensure that industry best-practices are incorporated into our operations. A special HSSE committee has been established for this purpose. Read our Health & Safety Vision and Principles here.
Business ethics
We are committed to doing business in an ethical and transparent way. We meet our long-term objectives and remain a business partner of choice by upholding our commitment to ethical business practices. Our strength lies in the way our employees act. To keep course, we implemented a Code of Conduct. It provides guidance in on how to identify and practically approach ethics and compliance dilemmas in our daily work lives.
We believe in diversity and inclusion and act accordingly. There is no room for discrimination or harassment. When working for or with us, we want you to feel safe and respected. A whistleblower policy is in place where we offer the possibility to report concerns via our Compliance Officers or to report anonymous via an independent hosted website in multiple languages, 24/7.
Operational excellence
We set ambitious targets to improve our operational excellence. This means we believe that accidents and injuries are avoidable and are committed to achieving our target goal of zero incidents whilst operating in an environment-friendly manner and aim to excel in a strongly rooted culture of safety and operational excellence. It also means respecting nature by protecting the environment, reducing waste and reducing our carbon footprint. Together we create a workplace with constant attention for the environment, sustainability, social responsibility and safety.
Sustainable business growth
For over a century, we've been evolving and developing in line with the continuously changing needs of our customers and the challenges of the times. Even in this dynamic day and age, fueled by ongoing changes, HES continues to have its finger on the pulse of the world around us. We pursue sustainable growth through expansion of our existing sites, greenfield development and acquisitions of operational terminals, and invest heavily in growth in storage and handling for Agri & Minerals and the expansion of our liquid bulk portfolio including processing activities. We have a strong focus on adjacent business opportunities with specific focus on energy transition opportunities such as hydrogen, chemical recycling and refrigerated gasses. We want to bring about long-term growth and create value for all our stakeholders.