Rotterdam, 17 November 2017 - HES International B.V has signed an agreement with Valt B.V. ("Valt"), a 50% / 50% joint venture between Vitol and Sargeant, to acquire Valt Asphalt Terminal B.V, a bitumen terminal located in Botlek Rotterdam. The terminal delivers storage, handling and blending services to the European and African bitumen market.
"This acquisition is in line with HES International's Liquid Bulk strategy to expand our storage footprint in Europe", according to Paul van Poecke, Head of Liquid Bulk Terminals of HES International. "The existing and potential future storage capacity can play an important role in meeting the increasing local and regional bitumen trade flows, in particular with IMO regulations, focussed on reducing sulphur levels in marine bunker fuels, kicking in by 2020. Besides the terminal is located close by our HES Botlek Tank Terminal ("HBTT") and adjacent to European Bulk Services ("EBS"), both 100% subsidiaries of HES, providing significant levels of synergy".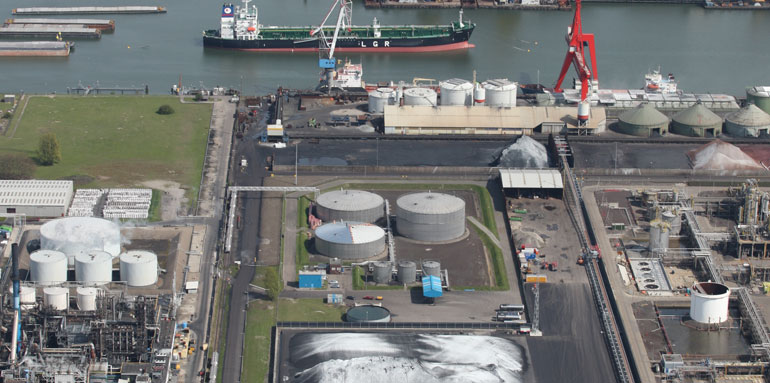 Dan Sargeant, CEO of Valt said: "HES International is a reputable market player and we are confident that the terminal's customers will benefit from their professionalism and the planned enhancements to the terminal. At Valt we are focusing on optimising the logistical services we provide to our clients worldwide."
During the course of 2018 HES International plans to upgrade the terminal by investing in tanks and ancillary infrastructure.
HES information please contact:
Mr. P. van Poecke, Head of Liquid Bulk Terminals HES International B.V. Tel. +31 (0)10 7900700. E-mail pvp@hesinternational.eu
Valt information please contact: Andrea Schlaepfer, Vitol Tel +44 207 973 4230
About HES International B.V.
HES International B.V. is a private company, headquartered in Rotterdam (the Netherlands) and is one of the largest storage and port logistics companies in Europe. Storage and handling activities comprise dry and liquid bulk terminals in North West Europe. The company's focus is on growing its present portfolio of high quality dry and liquid bulk terminals by means of expansion of its already owned sites, greenfield development and acquisitions of existing terminals. HES International B.V. is developing a tank terminal for the storage and transhipment of petroleum products and biofuels at the Hartelstrook, on the south side of the Mississippi harbour at Maasvlakte 1. This HES Hartel Tank Terminal is planned to be operational at the end of 2019. Subsidiaries of HES International B.V. in the Port of Rotterdam are:
For more information about HES International: www.hesinternational.eu
HES International is owned by Riverstone Holdings LLC and The Carlyle Group
About Valt
Valt is a leader in trading, storage and marine transportation of asphalt products around the world and is owned by Vitol and Sargeant Marine. It leverages the logistical capabilities, distribution networks and asphalt manufacturing of its shareholders to serve its clients worldwide and delivers circa 1.3 million metric tons of asphalt per annum, using its hubs in Boca Raton, Florida, Geneva, London and Singapore, and its fleet of fifteen specialised vessels .