Rotterdam – 4 June 2020. HES Wilhelmshaven Tank Terminal GmbH (HWTT) in Germany, a 100% subsidiary of HES International B.V., is proud to announce the operational start of the Low Sulphur Fuel Oil (LSFO) production unit. The unit has a nameplate capacity of approximately 2.5 million tons of LSFO per year. This start-up creates a unique LSFO market position in Northwest Europe and enables HWTT and HES International to add the production of more environmentally friendly LSFO to its service proposition to the oil & gas industry.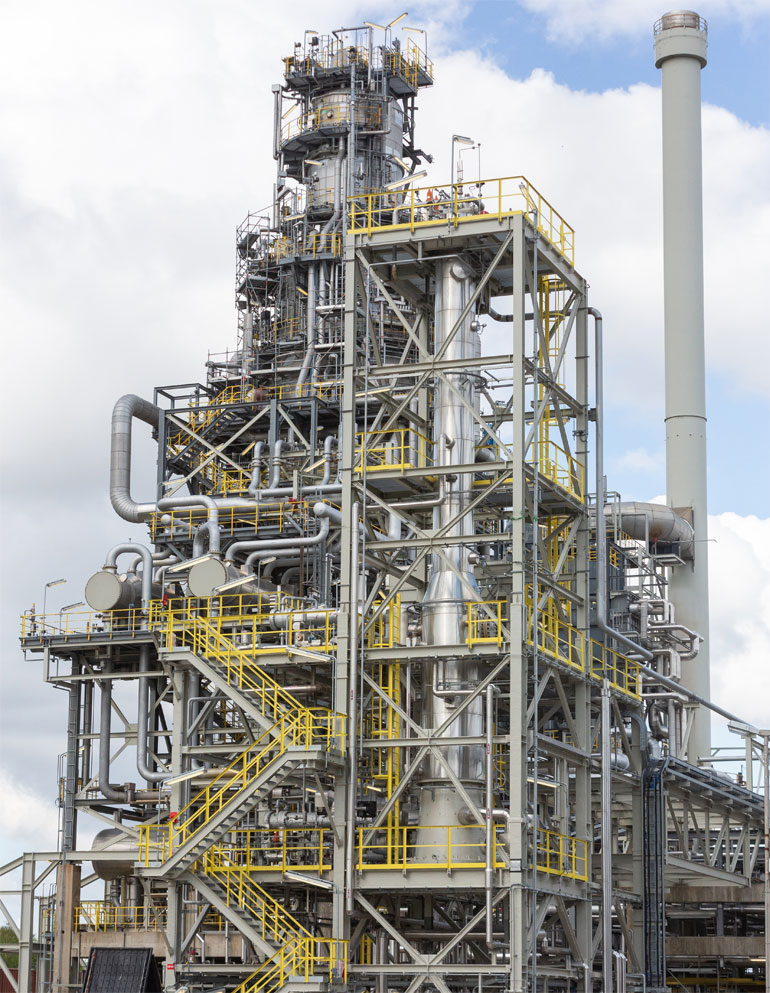 Due to new regulations of the International Maritime Organization (IMO) as of January 2020, the maximum sulphur content in bunker fuel for vessels is limited to 0.5% instead of the previous 3.5%. This offered HWTT a unique opportunity to revamp operations of their vacuum distillation unit.
Built in 2004 and operated for only 5 years, the unit was still in good condition and suitable to process a wide range of crude qualities. Upon completion of the revamping works, the LSFO production unit has been extensively commissioned and will now process low sulphur crude oils into LSFO in combination with other valuable rundown products such as gasoil, kerosene and naphtha.
'All permits are in place to operate the LSFO unit and the related tank storage capacity of over a third of the total terminal of 1.3 million cbm tank storage capacity,' Managing Director of HWTT Thomas Jenke said. 'With the commissioning of the LSFO unit, we can add processing again to our business. A special moment for all involved who worked hard to achieve this memorable moment. The good cooperation with the Oldenburg Supervisory Authority and with the Wilhelmshaven Authorities has contributed to this success, as well as the hard work of our employees and contractors. We are very proud of the achieved result: an operational LSFO processing unit which operates safely and compliant, enabling us to meet new market demands.'
With the commitment of a world-class energy major, HWTT has found a solid and reliable throughput partner for our operations for the next few years.
Director Strategy & Business Development of HES International Gerrit Groen added: 'We very much appreciate the confidence of one of our existing customers at our Wilhelmshaven terminal as a strategic facility to supply their key LSFO markets. The commissioning of the LSFO unit adds another important value to our portfolio. At HES we continue to build a unique platform of best-in-class liquid bulk terminals, including the state of the art HES Botlek Tank Terminal (Rotterdam), the product specific Bitumen terminal (Rotterdam) and the construction of the 1.3 million cbm HES Hartel Tank Terminal in Rotterdam. These investments underline our strategy and the commitment of our shareholders to further grow in the liquid bulk segment, both in storage as well as in ancillary services.'
About HES Wilhelmshaven Tank Terminal
HES Wilhelmshaven Tank Terminal is Germany's largest independent liquid bulk terminal, located at Germany's single deepest draft port. The terminal offers 1.3 million cbm capacity for a wide range of liquid bulk products, ranging from crude oil and clean petroleum products to liquefied petroleum gas (LPG). Its flexible and safe infrastructure accommodates extensive seagoing, road and rail traffic. The terminal offers excellent connections to the heart of Europe's most important refining and chemical processing industries as well as some of Germany's main consumption areas.
The former refinery was acquired in 2011 and transformed into a large-scale tank terminal facility with privately owned jetties with four seagoing vessel berth positions. With the LSFO production unit back into operation, the company can add processing again to their services.
About HES International
HES International B.V., headquartered in Rotterdam, is a leading independent provider of logistical services in ports, specializing in the handling of liquid and dry bulks. HES International's terminals hold a unique independent position in the bulk goods supply chain for a wide range of products and serve the heart of industrial Europe. The company's focus is on growing its present portfolio of high quality dry and liquid bulk terminals by means of expansion of its already owned sites, greenfield development and acquisitions of operational terminals. Most of the group's terminals have been active in the port industry for many decades, some for more than a century. HES International's activities are concentrated primarily in the Netherlands, the UK, Germany, France, Belgium and Poland. HES International is owned by Macquarie Infrastructure and Real Assets ("MIRA"), via Macquarie European Infrastructure Fund 5, and West Street Infrastructure Partners III ("WSIP"), managed by Goldman Sachs.
More information
Esther Erkelens, Manager Corporate Communications, e.erkelens@hesinternational.eu of www.hesinternational.eu