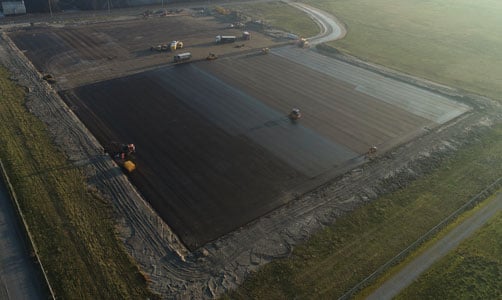 Vlissingen, 12 December 2019 – The stevedoring company OVET B.V. is delighted to announce the 3- hectare expansion of its Kaloothaven terminal in Vlissingen. As a result of this expansion, OVET will soon be occupying an area of 34 hectares. This expansion fits in perfectly with OVET's strategy of, on the one hand, continuing to diversify the product mix of various bulk and breakbulk goods, and on the other hand, offering greater added value and an even wider range of added-value activities to its portfolio of long-standing customers.
Vincent Courtois, Managing Director of OVET explains: "By offering added-value activities, such as screening and blending, OVET has managed to keep the volumes generated by the processing industry stable over recent years. In addition, the efforts the company has made in terms of its diversification strategy are also paying off. By successfully attracting new cargo flows, our terminal space has been in constant demand in 2019. The logical step was therefore to continue to expand the terminal. However, 20% of the volumes are now no longer linked to the processing industry. As a result, OVET is in a good position to adapt to the developments brought about by the energy transition."
The first works in Vlissingen started in Week 43 with the installation of drainage. In Week 50 the site should be completely tarmacked for the high-quality and environmentally responsible storage of bulk goods. For these works Ovet has selected a highly reputable partner from Zeeland.
About OVET: OVET BV is a multi-purpose stevedoring company that specialises in dry bulk products and has been operating in Zeeland since 1957. As a customer-oriented and committed partner it also offers a wide range of bespoke transhipment activities, logistics and added value services, which make it a highly valued and reliable link in the logistics chain of its industrial customers. Every year, up to 11 million tons of goods are transhipped at the two terminals in Terneuzen (16ha) and Vlissingen (31+3ha). The Kaloothaven terminal in Vlissingen is accessible to vessels with a draft of up to 17m, and this is the deepest navigable stretch of water in the North Sea Port area. OVET's shareholders are Oxbow Carbon LLC and HES International.
For more information: OVET BV, Vincent Courtois, vcourtois@ovet.nl of +31/115676700