European Bulk Services (EBS) B.V., a 100% subsidiary of HES International B.V., has proudly taken its new covered storage facility into operation. With this new multipurpose facility the existing storage capacity of 650,000 cbm has increased to 700,000 cbm, supporting EBS' position as a leading provider of covered storage for dry bulk products in the Port of Rotterdam.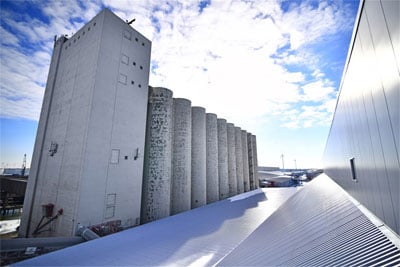 The new facility is situated at the EBS Europoort location and has a capacity of 50,000 cbm. It is suitable for the storage of agricultural products and consists of 7 separate sections. The design is carried out with a strong focus on flexibility for customers and stringent safety and environmental standards. Products can be loaded onto barge, rail and truck to continue way to their final destination.
A long-term contract with a customer has already been concluded for this new facility. The construction has been executed by Züblin Nederland, part of the European Strabag construction group, within agreed budget and timeline.
EBS's covered storage capacity now totals an impressive 700,000 cbm and is well on track in executing a multi-year masterplan to extend the covered storage capacity with 350,000 cbm of which 236,000 cbm now has been realized. A permit for yet another new warehouse at the EBS Botlek location has already been obtained. A tender process for construction companies is underway.
About EBS
European Bulk Services B.V. is a multipurpose dry bulk terminal operator and operates two strategically located terminals in the Port of Rotterdam area, Botlek and Europoort. The terminals have excellent access to deep-water seaways and to the hinterland by means of inland waterways, rail links and motorways.
Both terminals are equipped with the latest technology in the area of loading, unloading and storage facilities. EBS not only has onshore equipment (mechanical and pneumatic) at its disposal, but also a fleet of self-supporting floating cranes and weighing towers. EBS has land and berth capacity available for further expansion. More information on www.ebsbulk.nl
EBS Masterplan
2017 60,000 cbm Botlek terminal
2019 126,000 cbm Botlek terminal
2020 50,000 cbm Europoort terminal
2021 66,000 cbm Botlek terminal (permit received)
2022 50,000 cbm Europoort terminal (planned)
About HES
HES International B.V., established in 1908 and headquartered in Rotterdam, is a leading independent provider of logistical services in leading European ports, specializing in the handling of dry and liquid bulk products. HES International's independent terminals hold a unique position in the logistics supply chain for a wide range of bulk products and serve the heart of industrial Europe.
The professional staff of 1,350 ensure that bulk commodities are safely stored and handled 24/7 for customers from all corners of the globe.
The company's focus is on growing its present portfolio of high quality dry and liquid bulk terminals by means of expansion of its already owned sites, greenfield development and acquisitions of operational terminals. More information on www.hesinternational.eu
Macquarie Infrastructure and Real Assets, via Macquarie European Infrastructure Fund 5, and West Street Infrastructure Partners III, managed by the Merchant Banking Division of Goldman Sachs, each indirectly control 50% of the shares of HES International B.V.
More information
For more information you can contact Mr. Jan de Wit, Managing Director of European Bulk Services. Tel. +31 181-258147 or j.de.wit@ebsbulk.nl