HES International B.V. has concluded the sale of Dillinger Hafen-Umschlagsgesellschaft mbH. (hereafter DHUG) in the port of Saarlouis/ Dillingen in Germany to the German Stahl-Holding-Saar GmbH & Co. KGaA (hereafter SHS).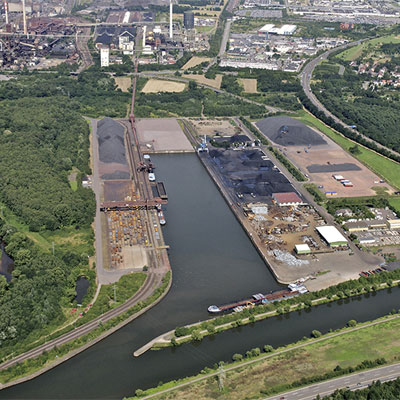 DHUG is located along the river Saar and is a logistical partner for local and international customers in the steel industry, the energy sector, the building industry and the food and feed sector. In addition to loading, unloading and transhipment of various dry bulk products, they offer a completely asphalted area of ​​five hectares for open storage as well as multifunctional covered storage facilities. In addition to dry bulk services they offer a Ro-Ro loading ramp, a quay for heavy lifting and a multipurpose crane for breakbulk cargo.
As part of Saarstahl, SHS is the holding and management company for the steel industry in the Saarland and takes on selected tasks for Saarstahl and Dillinger Hütte. Following a strategic review, HES International decided that DHUG is better positioned to fit into the portfolio of companies of SHS.
DHUG currently employs 8 people, all of whom will be retained by SHS as part of the acquisition.
Jeroen van der Neut, Managing Director Dry Bulk of HES International, said: "I sincerely like to thank Terminal Manager Fabian Hahn and his team for their ongoing commitment and valuable contribution to the company. SHS is a reputable market player in Germany and we are confident that they will support DHUG to build on its successful history. Proceeds from the sale will be reinvested in projects that are pivotal for the long-term, sustainable growth and transformation of HES."
"With the acquisition of DHUG, we are taking another important step in our transformation strategy and strengthening our locations in Saarland," says Stefan Rauber, CEO of SHS - Stahl-Holding-Saar. Jonathan Weber, SHS Board Member for Transformation, explains the background to the purchase: "The geographical proximity to DHUG is a strategic advantage for the future electric steel plants on the Saar. For the upcoming transformation process and the input materials required for it, the waterways are becoming increasingly important alongside rail and road for efficient and environmentally conscious delivery. We welcome our colleagues from DHUG to the company and look forward to working together."
HES International will continue to pursue its ambitions to further diversify its business – seizing opportunities from the ongoing raw materials and energy transition while strengthening its position in agricultural goods, minerals, iron ore and liquids handling.
The terms of the transaction have not been disclosed.
About HES International
Contributing to the world of tomorrow, that's what we do at HES. With 16 terminals in 5 countries at strategic located ports in Europe we are an important switch in the continuous delivery of essential building blocks for our everyday life needed to develop, sustain and improve the world around us. Our professional staff ensure that bulk commodities are safely stored, handled and processed 24/7 for customers from all corners of the globe.
We have a strong ambition to further broaden our product portfolio and also want to respond optimally to the opportunities that the energy transition offers us for products such as hydrogen, refrigerated gases and chemical recycling. In addition, we want to further strengthen our existing market position in agri, minerals and iron ore.
We want to create long-term growth and value for all our stakeholders including employees, customers, shareholders and the communities and countries in which we operate. This is underpinned by our focus on safety and our core values of integrity, respect, accountability, openness and entrepreneurialism.
HES International is headquartered in Rotterdam and has already been carefully handling bulk raw materials since 1908. Macquarie Asset Management, via Macquarie European Infrastructure Fund 5, and West Street Infrastructure Partners III, managed by the Goldman Sachs Asset Management Infrastructure business, each indirectly control 50% of the shares of HES International B.V.
For more information have a look at www.hesinternational.eu or contact Esther Erkelens (Manager Corporate Communications HES International) via e.erkelens@hesinternational.eu
About SHS – Stahl-Holding-Saar GmbH & Co. KGaA
SHS – Stahl-Holding-Saar GmbH & Co. KGaA is an operational management holding company with around 14,000 employees and a sales volume of roughly EUR 7 billion. As Germany's third largest steel producer, its companies produce around 5 million tons of steel that is ready for shipment. It actively performs tasks for the two major steel companies in Saarland, Aktien-Gesellschaft der Dillinger Hüttenwerke (Dillinger) and Saarstahl AG. This has enabled both companies to work more closely together beyond the previously existing cooperative ventures and to have a stronger presence in their markets. The companies are working in unison to grow, to become more flexible and to increase competitiveness in their respective markets. The SHS Group (the parent company of Saarstahl) is wholly owned by the private-law industrial foundation Montan-Stiftung-Saar, which aims to strengthen and safeguard the two major steel companies on the Saar. For more information: www.stahl-holding-saar.de