HES International has concluded the sale of HES (UK) Ltd. along with its subsidiaries HES Humber Bulk Terminal Ltd. and HES Humber Shipping Ltd. (hereafter "HES Humber Bulk Terminal") to Peel Ports Group.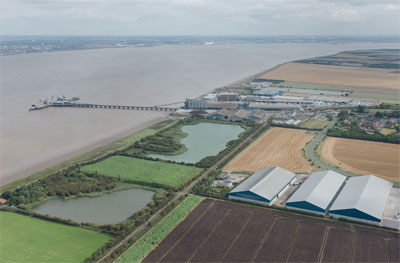 HES Humber Bulk Terminal is situated on the south bank of The Humber estuary in the United Kingdom and is a specialist in the safe and efficient handling and storage of a variety of dry bulk products. Following a strategic review of its investment in the terminal in 2021, HES International determined Peel Ports Group – the second largest port group in the UK – would be well positioned to develop the site's attractive expansion potential.
HES Humber Bulk Terminal currently employs 29 people, all of whom will be retained by Peel Ports Group as part of the acquisition.
Cees van Gent, CEO of HES International, said: "We would sincerely like to thank all HES Humber Bulk Terminal employees for their ongoing commitment and valuable contribution to the company. Peel Ports has a long and outstanding history in the safe handling of cargo from across the globe and plays an integral role in customer supply chains. They are a reputable market player in the UK and we are confident that they will support HES Humber Bulk Terminal to build on its successful history. Proceeds from the sale will be reinvested in energy transition related projects that are pivotal for the long-term, sustainable growth and transformation of HES."
Claudio Veritiero, CEO of Peel Ports Group, said: "The HES Humber Bulk Terminal acquisition is an important investment for Peel Ports Group, which expands our presence in the North of England and brings Peel Ports Logistics' 'One-Stop-Shop' service to the East Coast. The modern facilities at the HES Humber Bulk Terminal guarantee fast and efficient loading and unloading of vessels and trucks, while the excellent water and road connections enable quick and smooth operations. This, combined with the outstanding storage capabilities, will make the site a brilliant addition to Peel Ports Logistics, helping us to deliver efficient and cost-effective port services for our customers."
HES International will continue to pursue its ambitions to further diversify its business – seizing opportunities from the ongoing raw materials and energy transition while strengthening its position in agricultural goods, minerals, iron ore and liquids handling.
The terms of the transaction have not been disclosed.
About HES International
Contributing to the world of tomorrow, that's what we do at HES. With 16 terminals in 5 countries at strategic located ports in Europe we are an important switch in the continuous delivery of essential building blocks for our everyday life needed to develop, sustain and improve the world around us. Our professional staff ensure that bulk commodities are safely stored, handled and processed 24/7 for customers from all corners of the globe.
We have a strong ambition to further broaden our product portfolio and also want to respond optimally to the opportunities that the energy transition offers us for products such as hydrogen, refrigerated gases and chemical recycling. In addition, we want to further strengthen our existing market position in agri, minerals and iron ore.
We want to create long-term growth and value for all our stakeholders including employees, customers, shareholders and the communities and countries in which we operate. This is underpinned by our focus on safety and our core values of integrity, respect, accountability, openness and entrepreneurialism.
HES International is headquartered in Rotterdam and has already been carefully handling bulk raw materials since 1908. Macquarie Asset Management, via Macquarie European Infrastructure Fund 5, and West Street Infrastructure Partners III, managed by the Goldman Sachs Asset Management Infrastructure business, each indirectly control 50% of the shares of HES International B.V.
For more information have a look at www.hesinternational.eu or contact Esther Erkelens (Manager Corporate Communications HES International) via e.erkelens@hesinternational.eu