After the successful acquisition of IGMA by OBA in 2021 and subsequent acquisition of the remaining 25% of the shares in OBA Group by HES International, it is time for the next step. As of 1 November, both organizations will fully merge the operational and technical teams and continue under the name HES Bulk Terminal Amsterdam.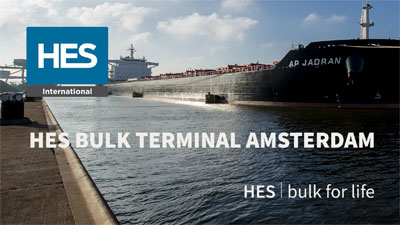 HES Bulk Terminal Amsterdam is the leading dry bulk terminal in the port of Amsterdam. Managing Director Jeroen van der Neut says: "The name has changed, but that certainly does not apply to our service, that we will continue keep at the highest level. Because of our new name and identity, it is now clear to everyone that we are part of the HES International group. We are looking forward to the opportunities this can create, also for new developments."
One of these new developments is the planned relocation of the ICL plant to the site of HES Bulk Terminal Amsterdam in the Westhaven. The term sheet for this was recently signed. After the acquisition of IGMA, this is an important step in the transformation towards a sustainable future.
About HES Bulk Terminal Amsterdam
Contributing to the world of tomorrow, that's what we do at HES Bulk Terminal Amsterdam. We are strategically situated in the Port of Amsterdam and are an important switch in the continuous delivery of essential building blocks for our everyday life needed to develop, sustain and improve the world around us. HES Bulk Terminal Amsterdam serves international customers from a variety of sectors and industries, including the energy and steel sectors, the animal feed industry, chemical- and recycling industry. Our professional staff ensure that a wide variety of bulk products are safely stored and handled 24/7 with care for people, the environment and the community in which we operate.