The new HES Hartel Tank Terminal in the Port of Rotterdam will offer inland vessels the option of using shore power. Installing shore power at the terminal is in line with the ambition of the surrounding municipality and HES itself to make use of innovative and sustainable solutions. All 9 berths for inland vessels will be supplied with shore power.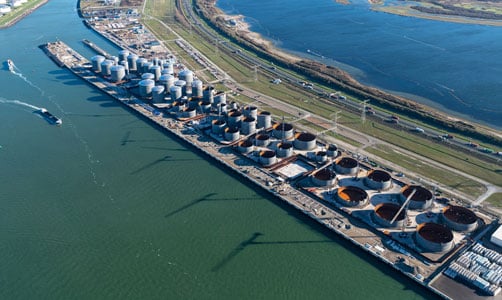 Moored at the quay, the vessels often run on generators for the required energy on board resulting in emissions of amongst other particulates, nitrogen and CO2. Shore power offers the opportunity to reduce those emissions by providing vessels with a more sustainable energy source. Shore power not only contributes to the (international) climate objectives, but also contributes to the reduction of nitrogen deposition in Natura2000 areas which improves the living environment around the Port of Rotterdam.
In addition to the shore power facilities for inland vessels, HES Hartel Tank Terminal will investigate once every 5 years whether shore power is also possible for the other 6 berth for the use of seagoing vessels. The new tank terminal will be the first terminal in the Netherlands to be built in accordance with the PGS 29 regulations for tank terminals. This means that the terminal meets very high safety and environmental requirements.
Significant progress has been made in the development of the 1.3 million cbm tank terminal for the storage and transhipment of petroleum products and biofuels in the Port of Rotterdam. Complying with the COVID-19 measures, construction works on tanks and the related civil and piping works are currently continuing unabated.
Recruitment for the first of 80 new colleagues who will be responsible for running the terminal in the future have started. After commissioning, which is expected at the end of 2021, the terminal will be operational 24/7.