In recent months significant progress has been made in the development of the HES Hartel Tank Terminal, a project of HES International. Environmental, construction and discharge permits to develop a 1.3 million cbm tank terminal for the storage and transhipment of clean petroleum products and biofuels in the Port of Rotterdam are irrevocable. The awarding of these required permits represent a major step forward in the development of this state of the art liquid bulk storage terminal. Subsequently contracts with contractors have been signed, construction works have started and a comprehensive funding package of limited recourse project financing and equity commitments have successfully been secured.
The new tank terminal will be the first terminal in the Netherlands that will be built according to the latest PGS 29 regulations for tank storage, meaning that the terminal will meet very high safety and environmental standards. On top of legal health and safety requirements HES International decided to invest in an automated system to fight a tank bund fire, a project to provide shore side electricity for barges and monitoring equipment to detect the release of odorous substances at an early stage. The monitoring equipment is in direct connection with our own control room making it possible to adjust our operations immediately when necessary.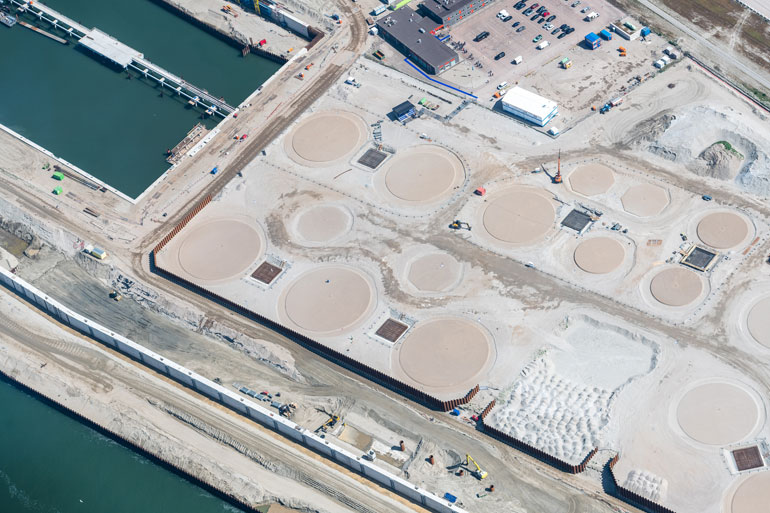 On the 27-hectare site, 54 tanks with a storage capacity of 1.3 million cbm will be built. The tanks vary in size from 5,000 to 50,000 cbm and are suitable for the storage of different products. In addition to transport by pipeline, loading and discharge of products will predominantly take place by vessels and barges. The terminal will have six berths for seagoing vessels ranging in size up to VLCCs with a draft of 21 meters. In addition, there will be nine berths for inland barges in the Hudson harbour.
In Q4 2018 contractors have commenced with excavation works as well as civil works. Construction works for building the tanks and related piping will be executed by a consortium of contractors. Around ten companies, from engineering companies to suppliers of building materials, will construct one of the most modern and safe liquid bulk storage terminals in the Netherlands. It is the expectation that the terminal will be operational as from Q3 2021.
Port of Rotterdam Authority started construction of the quay wall in January 2018 and construction works are on schedule. In addition to a 1,200 metre long deep-sea quay wall, a 1,000 metre-long quay wall will also be built for inland barges, together with a 350 metre long jetty. At the same time, dredging and earthmoving work will be undertaken, as well as bank and harbour basin protection. Work on these maritime facilities will be completed at the end of 2019, as planned.
Energy major BP - owner of BP Refinery Rotterdam - has committed to the project, with plans for a pipeline connection between the refinery and the terminal.
The development of the HES Hartel Tank Terminal contributes to direct and indirect employment in the region, both during construction and operations. It is expected that several hundred people will be needed for the construction of the terminal. After commissioning, the terminal will be operational 24/7 and will provide roughly eighty people with a job. Added to this is the indirect employment.
About HES International
HES International, founded in 1908 and headquartered in Rotterdam (the Netherlands), is one of the largest independent storage and port logistics providers in Europe. The company's focus is on growing its present portfolio of high quality dry and liquid bulk terminals by means of expansion of its already owned sites, greenfield development and acquisitions of existing terminals. For more information about the project please visit the project website www.hesharteltankterminal.eu. More information on HES International and its terminals can be found on www.hesinternational.eu
---
For more information, please contact:
Esther Erkelens, Manager Corporate Communications
e.erkelens@hesinternational.eu | tel +31 (0)10 7900700